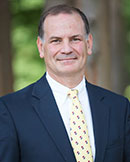 Todd A. Vincent
One of the most gratifying comments a Headmaster can hear from an alumnus or parent is that the School had a direct, positive impact on a child's education and therefore his future. To hear this repeatedly means we are doing something right. In growing numbers, alumni and friends are thinking of how to ensure that the School's future is just as promising tomorrow as it is today.
Join us in continuing to uphold the high standards of a Dexter Southfield education for future generations of students. Gifts made through your estate, retirement, or life insurance plan can be structured in several useful ways. The tabs listed above contain valuable information about some of these.
I invite you to view the list of Caswell Society members and read, in their own words, several accounts of why they chose to make a planned gift to Dexter Southfield.
Together we can strengthen the foundation from which we continue to build and better Dexter Southfield. We are grateful for all the ways that members of the Dexter Southfield community support the School so that we are prepared to meet whatever lies ahead.
Todd A. Vincent
Head of School